Operations Embracing the Benefits of Reusable Transport Packaging
Demand on the Rise
Reusable transport packaging plays a significant role in supply chain logistics across industries, and the demand for these solutions is growing. A December 2018 report predicted that the market for returnable packaging, including reusable pallets, crates and bulk containers, would grow from $37.9 billion in 2018 $51.2 billion by 2023.
This growth is driven in large part by the food and beverage industry, including the increased demand for grocery delivery services. According to Food Logistics magazine, food processors desire cleanable processing equipment including transportation products, a benefit offered by reusable packaging solutions.
"The growing demand for reusable totes, crates and pallets is no surprise given all of the benefits it can offer to warehouse and logistics operations," said Ken LeBlanc, an ID Label business development manager.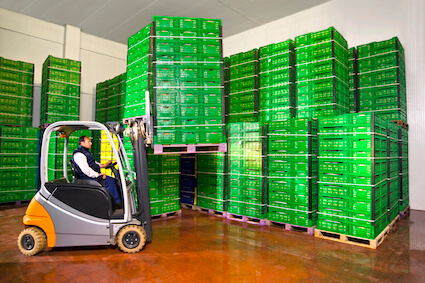 "The growing demand for reusable totes, crates and pallets is no surprise, given all of the benefits they offer to warehouse and logistics operations."

"Converting to reusable packaging totes requires an initial investment consideration, but the change can produce significant savings in the long run."
– Ken LeBlanc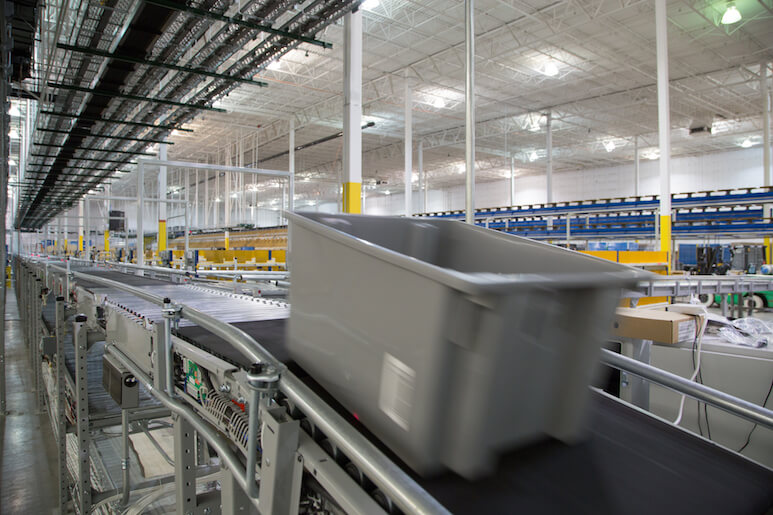 Reusable totes and containers feature a long useful life and contribute to warehouse operators' demands for sustainable supply chain solutions.
Five Key Benefits of Reusable Transport Packaging
1) Sanitation
Food processing and handling facilities in particular place a great emphasis on cleanliness in the supply chain. Plastic pallets are designed with minimized areas for contaminants to collect, with no hidden crevices or hollow areas. "The corners on plastic pallets reduce the risk of product damage from punctures or snags," LeBlanc said. "Plastic pallets and totes are also resistant to moisture, odor and rusting, offering further protection to food products."
2) Sustainability
Reusable transport packaging produces considerably less waste than traditional packaging options. Many pallets and totes are even made from 100 percent recyclable patented composite material, helping to offer a sustainable transport packaging solution.
3) Savings
"Converting to reusable packaging totes does require an initial investment consideration," LeBlanc said. "But the change can produce significant savings in the long run. The more durable solutions offer a longer lifecycle than traditional transport packaging materials, and the lighter weight and increased efficiency they provide can lead to shipping savings."
4) Safety
Plastic pallets eliminate the wood and nail debris hazard of wood pallets. Plastic totes and crates typically offer a more ergonomic design for easier handling and smoother edges that reduce the chance of cuts.
5) Seamlessness
The consistent size and condition of reusable transport packaging ensures a seamless fit in nearly any warehouse or operation. "Operators don't run the risk of nails or loose corrugated flaps causing jams or delays," LeBlanc said.
Track Reusable Assets with Durable Barcode Labels
The move to reusable transport packaging requires a durable barcode labelling solution that can match the longer lifecycle of these products to ensure that assets are properly tracked.
"ID Label offers a few different labeling options specifically designed for tracking plastic pallets, containers and totes throughout a warehouse system," LeBlanc said. "These products are durable, economical and highly effective, especially when compared to an RFID tag."
For Plastic Pallets
BullsEye™ Ultra-Durable Labels have a thick construction and are engineered for durability and longevity to withstand daily encounters with forklift trucks, pallet skids and carts. ID Label's specialized manufacturing process produces extremely rigid and virtually indestructible barcode labels that are ideal for reusable plastic pallets.
For Totes and Containers
Tote Renew™ is a durable, laminated label-holding strip that makes it easy to apply and remove barcode labels for plastic totes and containers. Workers avoid the time-consuming challenge of constantly scraping off old labels or the mess of stacking new labels on top of old ones.
"Tote Renew offers easy barcode label application and removal in a clean, fast and simple process that helps boost worker productivity and operational efficiency," LeBlanc noted.
Ensuring the tracking and traceability of all assets in the supply chain becomes even more important with the use of reusable transportation packaging, particularly within the food industry. For a customized solution that can match the durability of your packaging, contact ID Label to understand your best options.

The ID Label Advantage
ID Label manufactures extremely durable warehouse rack and bin location labels. Our materials have been tested and used in warehouse operations around the globe.
We also provide warehouse signage and turnkey nationwide installation services to provide a complete solution to our many clients who rely on us for all their warehousing needs.