How to Install 550,000 Warehouse Rack Labels and Signs—and Make It Look Easy!
ID Label recently completed a large label and sign installation project at a new distribution center in the Midwest. Our professional installation crew installed more than 500,000 warehouse labels and 50,000 signs.
Needless to say, a project of this magnitude requires a great deal of advance planning and coordination. Luckily, we've done this hundreds of times before!

For every warehouse installation project, we provide complete planning and project management services. This includes material and layout recommendations and data file review.
Industry's Most Experienced Installation Crews
ID Label installs millions of labels and signs annually—using our own team of ID Label employees (not temp workers) to ensure the job is done right. Our nationwide installation crews have many years of experience in every kind of warehouse racking environment—new and live facilities, ambient temps, cold storage, freezer locations . . . you name it.
Installing overhead bulk storage warehouse signs, aisle markers, dock signs and hanging zone markers—to name a few—requires its own level of expertise, knowledge and specialized equipment. As I've learned, you shouldn't assume your in-house crew of warehouse specialists can tackle this challenge in their "spare time."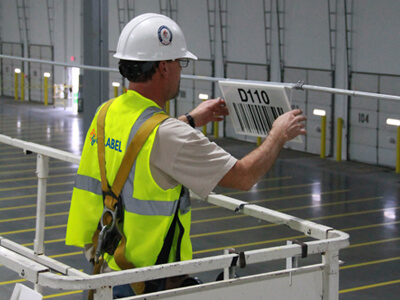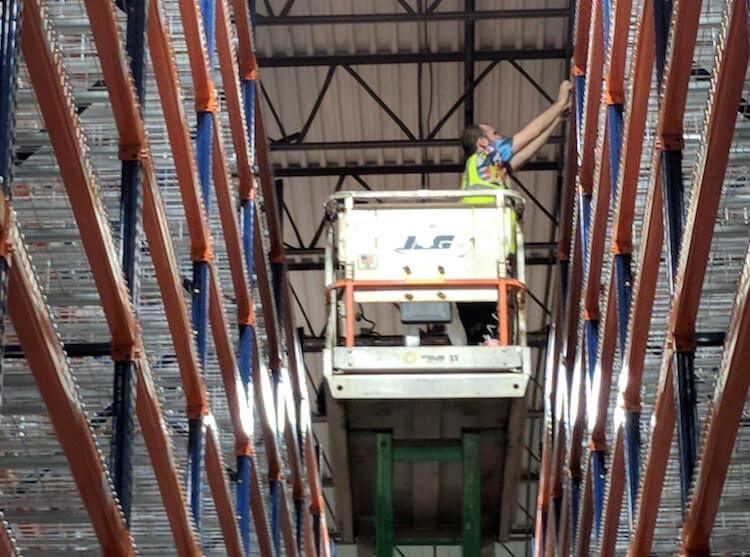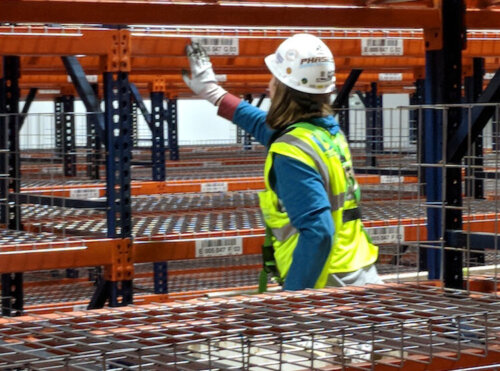 Avoid the Pitfalls of DIY Installations
Do-it-yourself installation projects rarely go smoothly and almost always cost more than you anticipate. Common pitfalls we've seen:
Project-length overruns. DIY installations typically take 50% longer to complete compared to ID Label's professional crews.
Labor challenges. Be prepared for the lost productivity from using internal warehouse workers—or the challenges of finding last-minute replacements for part-time or temp contractors who don't show up.
Costly mistakes. Installing labels out of sequence has enormous consequences. It not only requires expensive label re-runs, but also the additional time and labor to remove the out-of-sequence labels and install the new ones.
Shoddy results. Inexperienced DIY workers don't know how to properly treat warehouse racks or how to effectively install labels so they adhere. All too often, this leads to labels that curl and fall to the ground.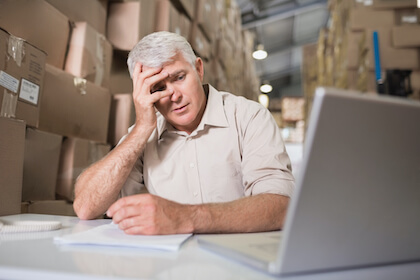 A large manufacturer recently learned these lessons the hard way. Thinking they could save a little, their DIY installation actually took four times longer and cost twice as much as the ID Label proposal. Because the project ran over so long, the cost to rent scissor lifts alone exceeded our entire project quote! I'm happy to say we've since successfully completed three installation projects for them—all without a hitch.
ID Label Turnkey Project Management
For every installation project, ID Label provides complete planning and project management services. This includes material and layout recommendations and data file creation and management.
Here's a great video case study of an installation we did for Lennox.
Stay Organized with Floor Striping
ID Label also offers complete floor striping services to properly and professionally designate your bulk storage areas, as well as forklift and pedestrian traffic areas.

"As a warehouse designer and implementer, I've used ID Label for several installations and they have always impressed. Their suggestions on best practices and experience with other installs definitely expedited the process, which helped against our tight timelines. Highly recommended!"
– Senior Supply Chain Consultant
Download: "Checklist for Your Next Warehouse Label Installation Project"
Download our free warehouse label installation checklist to fully prepare for your next project.

Learn More About ID Label's Installation Services
Interested in learning more about our turnkey installation services? Contact us today. We'd love to discuss your next project with you.