Warehouse Floor Striping Ensures Efficient Use of Space
If you're constructing a new warehouse or distribution center, or reconfiguring an existing facility, be sure your bulk storage floor locations are properly marked.
"Professional warehouse line striping ensures that space for bulk inventory is maximized in an efficient and effective manner," said Brian Blair, ID Label's installation services manager.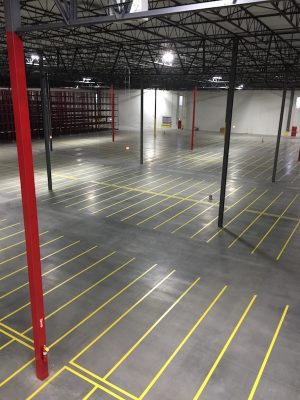 "It was a real pleasure working with ID Label. Great communication from the installation crew throughout the project. They even made some good recommendations I hadn't thought of." 
                   – Jack Katz, Inventory Control Manager, Lifeway Foods Inc.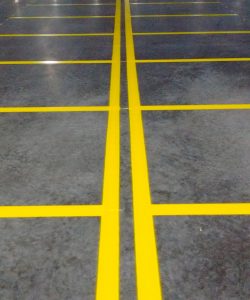 Warehouse Floor Striping Services
ID Label offers complete floor striping services to properly and professionally designate your bulk storage areas, as well as forklift and pedestrian traffic areas.
There are several striping options ID Label will review with you to achieve a long-lasting, bright appearance. These include:
Shot blast preparation (which can include removal of existing lines)
Direct two-part epoxy
Outdoor lot striping
Floor tape
Overhead Warehouse Signs Help to Identify Bulk Storage Locations
Overhead signs are highly recommended for identifying and managing bulk storage inventory. They typically contain a barcode image and human-readable numbers or letters.
For operations that can accommodate long-range mobile scanning, retro-reflective graphics are used for optimum scan accuracy. 
"Many of today's scanners can read 1D or 2D barcode images up to 50 feet away," Blair said. "This means workers can quickly and safely scan bulk locations without leaving their lift trucks."
Contact us to discuss your environment and best options.

The ID Label Advantage
ID Label manufactures extremely durable warehouse rack and bin location labels. Our materials have been tested and used in warehouse operations around the globe.
We also provide warehouse signage and turnkey nationwide installation services to provide a complete solution to our many clients who rely on us for all their warehousing needs.