How Warehouse Labels Enhance Your 5S Program
Getting Lean with 5S
Many facilities have found success in following 5S, a lean strategy used to help eliminate waste, optimize productivity and increase workplace efficiency. From a traditional office to a complex manufacturing operation, the principles of 5S can be applied in any industry for a cleaner, safer and more organized workplace.
This includes warehouses and distribution centers, which are particularly well suited to this strategy. Before considering the benefits of 5S in a warehouse, it helps to understand the core tenets of the philosophy.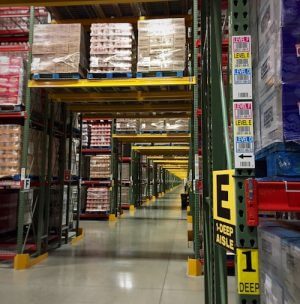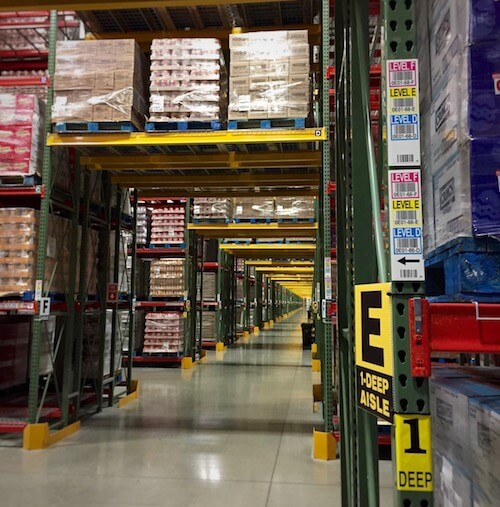 "Proper labeling plays a foundational role in keeping areas organized to help eliminate the inefficiencies and organizational waste that the 5S methodology was established to counter."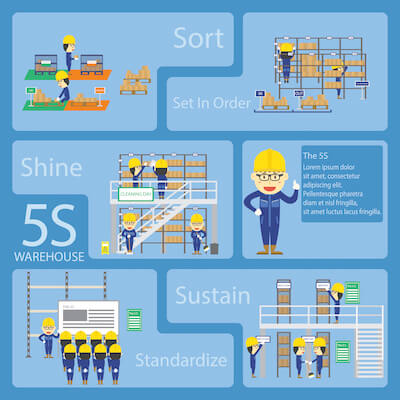 The Pillars of 5S
The pillars of 5S originated in Japan and in English roughly translate to: sort, set in order, shine, standardize and sustain.
1) Sort
Sorting through materials and tools to determine which are necessary vs. unnecessary, with the intent to remove any unnecessary items from the work area.
2) Set in Order
Organizing and identifying the remaining necessary materials and tools for ease of use and access.
3) Shine
Cleaning the area of any dirt and debris.
4) Standardize
Establishing a daily process to complete the sort, set in order and shine pillars. This ensures you maintain the cleanliness and order created during the initial 5S event.
5) Sustain
Turning 5S into a habit to sustain the initial gains in productivity and safety, while also maintaining waste reduction efforts.
Benefits of Labels in 5S
Proper labeling plays a foundational role in keeping areas organized to help eliminate the inefficiencies and organizational waste that the 5S methodology was established to counter. Adding warehouse labels to bins, racking and shelves is a cost-effective, easy solution to implement.
With today's state-of-the-art digital inkjet presses, there are a wide variety of standard and custom options available in multiple colors and graphics, with either linear or 2D barcoding to support your mobile scanning devices.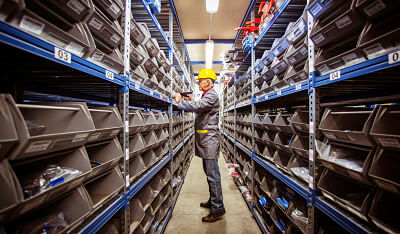 Reduce Waste
Information gaps contribute to organizational waste in warehouse environments. In fact, waste can account for up to 95% of all costs in non-lean work environments. Standardizing operations not only eliminates wasteful or unnecessary information or clutter, it is also a hallmark of the 5S methodology.
Implementing visuals in the workplace can help eliminate waste. Visuals like warehouse signs and labels communicate important information to employees instantly, thus increasing efficiency.
Rack and bin location labels from ID Label are designed to efficiently track and identify products for storage, picking and packing. These extremely durable warehouse rack labels and bin location labels make it easier for employees to find what they need, preventing wasteful or unnecessary information or clutter.
The labeling involved in the 5S process is subject to change as operations make continual improvements, so operations may also want to consider labels that are easily removed. Products such as Clean Release™ removable labels eliminate the wasted time having to scrape old labels, a source of frustration that can hinder employee buy-in of the 5S philosophy.
Go Linerless
"Linerless" labels—produced without a liner backing—can also enhance your 5S program. Products like ID Label's Eco Beam Renew™ eliminate excess environmental waste, are easy to install and reduce the potential for slip-and-fall injuries from discarded liners laying on the warehouse floor.
Enhance Knowledge
Training is crucial at every manufacturing facility and plays a key role in the sustain phase. Since visuals have been found to improve learning by up to 400%, implementing warehouse signs and labels can help ensure established procedures are followed and promote safety, often considered the sixth "s" in the methodology. An effective visual aid can accurately explain procedural and safety information to employees at any given time.
ID Label offers a variety of knowledge-based signs that include: warehouse safety signs, aisle and zone markers, door and loading dock signs, and more.
Get Organized
Not being able to find tools when an employee needs them is not only an inconvenience, it also affects an organization's productivity and profitability. Tool tracking and management can easily locate the equipment in your warehouse, ensuring your profitability, a key component to the set in order phase.
ID Label's high-quality, durable asset labels are an ideal way to ensure your equipment and other assets are properly tracked and inventoried. Computers, monitors, machine components, tools, fixtures and even vehicles all must be properly tracked and accounted for via barcode asset tracking.
Warehouse Floor Striping
Striping and marking warehouse floors is another way to enhance your 5S program. Properly striped floors help warehouse workers safely use equipment like lift trucks, keep bulk storage items neatly organized and ensure that space is used efficiently.
Ready to Commit to 5S?
The 5S methodology is proven to increase workplace efficiency, but it requires a commitment from team leadership and proper implementation. For advice on how labeling and signage can support your 5S plans, consult the experts at ID Label.

The ID Label Advantage
ID Label manufactures a broad range of durable warehouse labels. Our materials have been tested and used in warehouse operations around the globe.
We also provide warehouse signage and turnkey nationwide installation services to provide a complete solution to our many clients who rely on us for all their warehousing needs.