How to Survive a Warehouse Relabeling Project
Time to relabel your warehouse racks?
Warehouse relabeling projects are a more common occurrence today as facilities look to better manage inventory and throughput amidst rising expectations for rapid order fulfillment.
If you're unsure whether or not your warehouse management process would benefit from relabeling, consider the following questions:
Are your existing rack barcode labels damaged, missing or peeling, requiring inefficient and error-prone manual data entry?
Are you implementing a new warehouse management system?
Does your facility fulfill e-commerce orders?
Has your inventory increased in volume or velocity?
Are you considering reconfiguring part of your warehouse to improve slotting of inventory?
Chances are at least one of the above scenarios is at play within your facility. It's worth a closer look to see if any of them are impacting your ability to efficiently store, pick and ship products. With that being said, where do you start a relabeling project?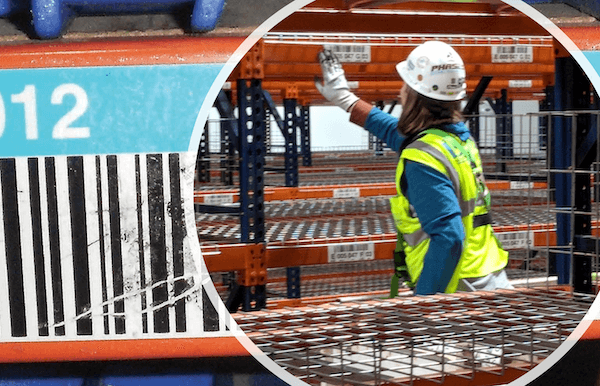 Relabeling and reconfiguring warehouse racks can be a laborious, time-consuming endeavor. There are several factors and options to consider before tackling a project like this.

During relabeling projects, make sure your warehouse management system integrates with other technologies to facilitate mobile data collection, labeling data file set up and wireless LAN connectivity.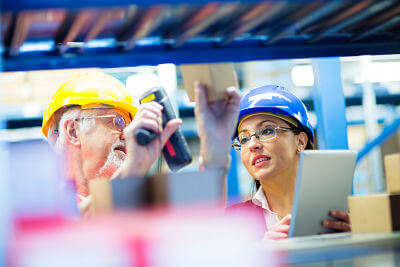 1. Understand the changing needs of the facility
Any relabeling project requires a thorough understanding of the facility, its operating environment, racking set up, inventory flow and processes. That starts with the warehouse layout and an efficient numbering scheme. Whether you're constructing a new distribution center or simply seeking ways to better organize your current facility, it's always a good time to look at ways to optimize your location identification logic.
2. Ensure barcode labels work with your mobile technology
It's also important to consider how the existing equipment in the facility will impact any proposed relabeling solutions. For example, is it a person-up or down operation? Does your mobile equipment accommodate long-range scanning? Can they image 2D barcodes?
3. Improve barcode label performance with a Warehouse Management System
Mobile barcode scanning is a huge improvement in warehouse inventory management compared to paper-based processes. A warehouse management system takes it to the next level, delivering significant operational efficiency improvements, better workflows for picking and putaway and much more.
During relabeling projects, make sure the warehouse management system integrates with other technologies to facilitate mobile data collection, labeling data file set up and wireless LAN connectivity.
Recently, ID Label worked with home improvement retailer Lowe's on an 18-month WMS upgrade across 15 distribution centers (DC). The new warehouse management system meant that all 15 DCs required new, durable rack location labels to accommodate the upgraded inventory management system. ID Label manufactured all of the required rack labels to preplanned specifications and to coincide with the changeover at each DC, which improved warehouse efficiency and speed across all DCs.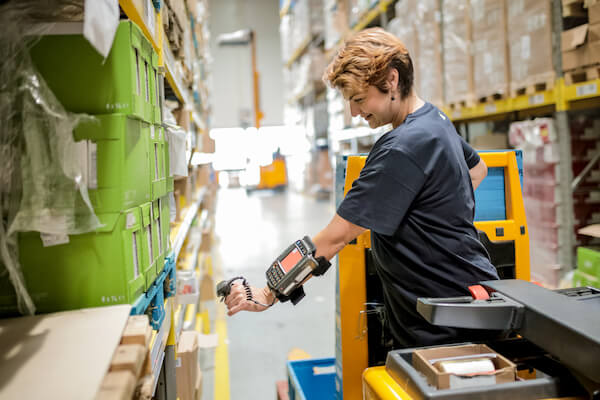 4. Review warehouse label needs for different areas of the facility
An important step in the relabeling process is to review the warehouse layout and its specific relabeling needs. Based on our experience with thousands of warehousing clients, the best labeling options depend on your specific needs and operating environment.
Planning a new relabeling project?
Consult with ID Label to understand your options. We're passionate about helping our clients find the best solutions to keep their businesses moving forward.
ID Label's warehousing products – from rack and LPN labels to signs and installation services – have been tested and used by great companies in operations around the globe for more than 25 years. That's extensive experience and knowledge we can bring to your specific requirements.

The ID Label Advantage
ID Label manufactures extremely durable warehouse rack and bin location labels. Our materials have been tested and used in warehouse operations around the globe.
We also provide warehouse signage and turnkey nationwide installation services to provide a complete solution to our many clients who rely on us for all their warehousing needs.