Tips for Effective Warehouse Numbering Schemes
Successful warehouse management strategies are all crafted with one overarching goal for an operation – efficiency. One area that can dramatically boost efficiency is a system for effective inventory location slotting.
Whether you're constructing a new distribution center or simply seeking ways to better organize your current facility, it's always a good time to look at ways to optimize your location identification logic.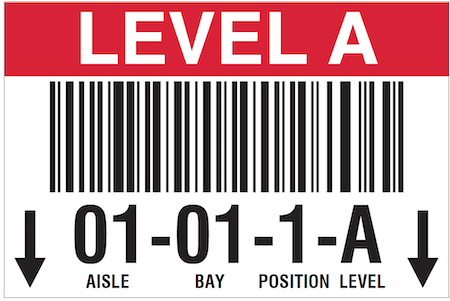 "The location identification nomenclature is a kind of shorthand language to help workers quickly know where products are to be stored or picked. And that logic is also built into the warehouse's inventory management software."
– Ken LeBlanc, ID Label
Be Organized
"Most warehouse location IDs consist of four to six fields that reflect the layout and organization of a facility," said Ken LeBlanc, an ID Label senior business development manager. "This nomenclature is a kind of shorthand language to help workers quickly know where products are to be stored or picked. And that logic is also built into the warehouse's inventory management software."
Let's look at the most common nomenclature fields.
Warehouse Zone
Zone markers are used to identify a set of locations within a warehouse. For example, zones might be used for bulk storage, case storage, dry goods, freezer inventory, receiving, staging, etc.
Aisles
One way to number warehouse aisle signs for growth is to start with aisle "10" or "BA," which allows for flexibility. Do not assign the first aisle as "01" or "AA."
"It's also recommended to leave strategic gaps in your aisle sequencing to accommodate change down the road," LeBlanc said.
Rack Bays
Bay numbering is the same as aisle numbering. Do not start with bay "01" next to the dock. Label the first bay near the dock "10" or "11" and allow for flexibility.
It may be beneficial to change the bay numbers at every cross aisle from the 00's section to the 100's section to the 200's section, even if the bay counts between cross aisles do not reach that high. This added "section" to your bay numbering scheme benefits pickers, replenishers, inventory control and everyone touching product in the warehouse.
Level or Shelves
"Warehouse level schemes are identified by characters," Leblanc said. "In most scenarios the floor level is going to be 'Level A.'" It's common to store fast-moving items at lower levels where they are more easily accessed.
The next levels are often labeled B/C/D/E/F. For purposes of temporary or seasonal labor, you may find it useful to have consistent levels, such as those at eye level or in the "golden zone" to be just as consistent as the floor "Level A."
Position or Slot
Positions on a shelf or rack often do not exceed nine positions. Regardless, position numbering with two digits is a preferred method (01, 02, 03…). The zero added into the final location identifier helps with the visual break between the bay and the position, but also allows for up to 99 positions and, thus, flexibility.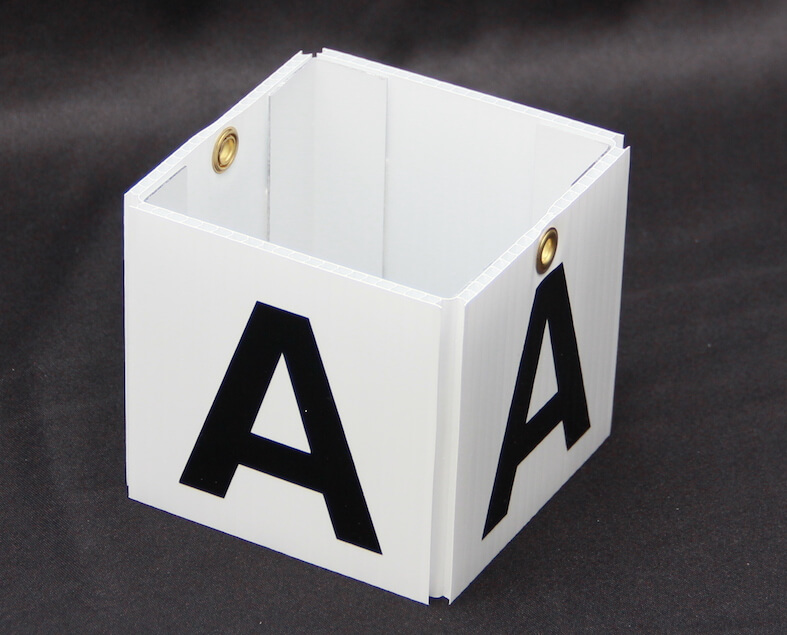 Hanging zone markers like this cube sign constructed of rigid Coroplast help to identify areas of a warehouse.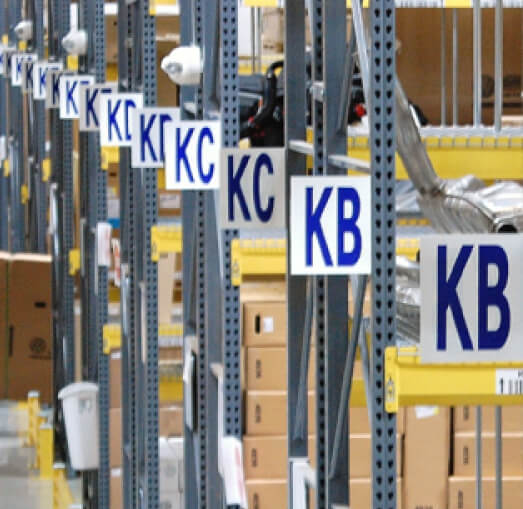 Aisle signs should be large in size and installed at a level that makes it easy for workers to quickly and accurately identify aisles.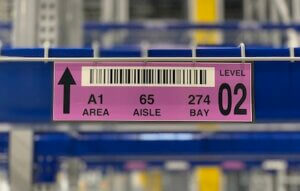 Rack labels typically include a barcode image and human-readable type, and they may be color coded to help identify the rack level.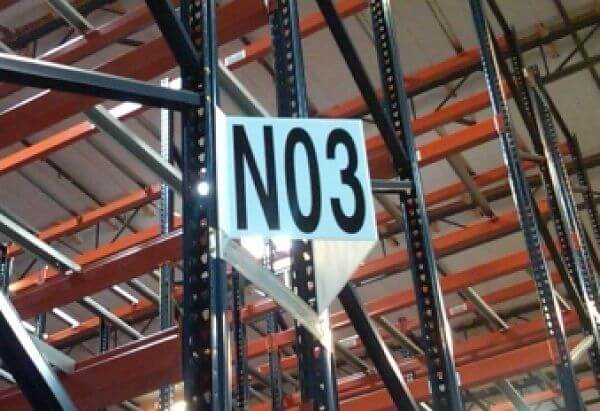 Be Consistent
When numbering warehouse aisle signs, travel down the aisle by addressing even bay numbers on the left side and odd numbers on the right. Be sure that low and high bay numbers are consistent between aisles with the low numbers always on one end and high numbers on the opposite end.
It is a best practice to identify every product location with shelf signs, as this storage position is the final instruction to your order picker.
"Promoting faster warehouse product retrieval gets the product to be one step closer to your customer," LeBlanc said.
Be Collaborative
A great plan won't be effective if workers can't easily understand your numbering and slotting scheme. Throughout the planning and implementation process, ask your team members for input to learn what would be most helpful to them. Once you have established a location numbering plan that works for everyone, be sure to train your staff thoroughly for best results.
Be Equipped
Signs and labels tell the story of how to navigate a warehouse, and they communicate information with staff.
"A great location scheme can fail without proper warehouse signage and labels with barcodes in place," LeBlanc said.
There are a variety of solutions from ID Label that will fit the specific needs and dynamics of your facility, enhancing efficacy of a newly implemented slotting scheme.
For instance, vertical location labels, also known as totem labels, are an excellent solution for multilevel warehouse racks. These labels mark each rack bay location and are used to identify products for storing, picking and inventory management. If you need to be able to scan the top levels from the ground, totem labels eliminate the need for long-range scanning and minimize potential confusion and scan errors.
Another best practice is to hang warehouse location signs at the end of each aisle to convey necessary information quickly and effectively.
"The goal should be that even someone who is not familiar with your products can accurately pick an order," LeBlanc said.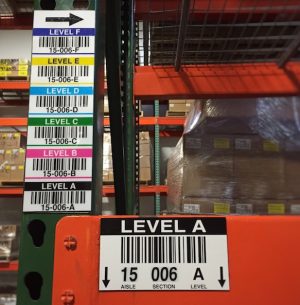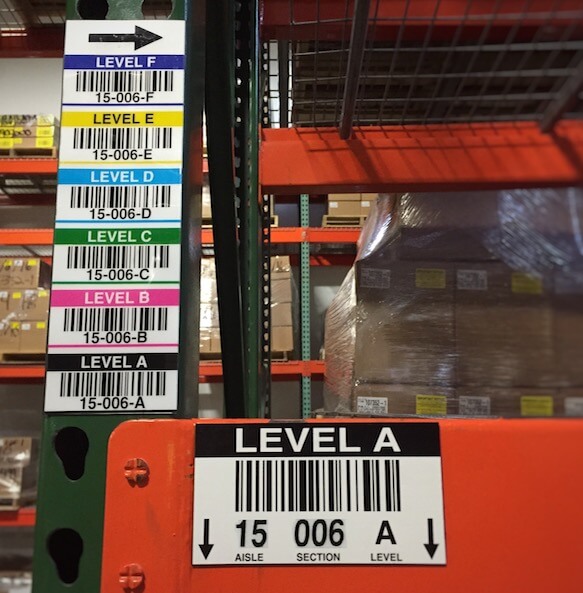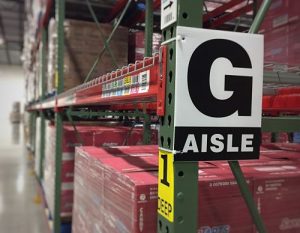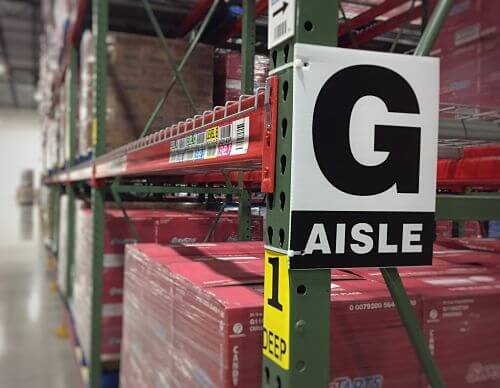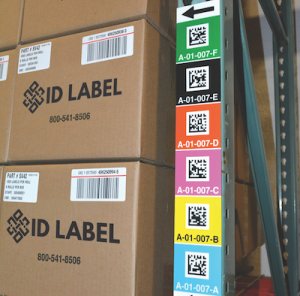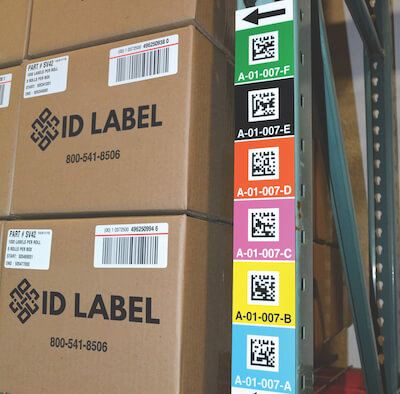 Why Invest in Numbering Schemes?
Following labeling best practices in your location slotting system can lead to increased accuracy, higher efficiency and labor savings. The right strategy is different for each location, and ID Label is here to help optimize your supply chain efforts with our versatile and highly customizable label options.

The ID Label Advantage
ID Label manufactures extremely durable warehouse rack and bin location labels. Our materials have been tested and used in warehouse operations around the globe.
We also provide warehouse signage and turnkey nationwide installation services to provide a complete solution to our many clients who rely on us for all their warehousing needs.