Five Questions to Ask Before Attempting a DIY Warehouse Label Installation
Growth in retail e-commerce sales has led to a boom in new warehouses and distribution centers to keep pace with demand. Given that e-commerce warehouses require up to three times more space than traditional warehouses, these are huge, complex projects with a lot of moving parts.
Planning for and ordering location labels and signage is, of course, an important part of that process. So is determining how these items will be installed.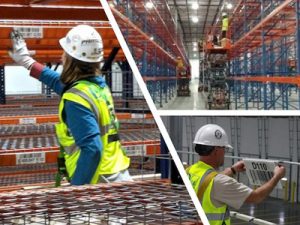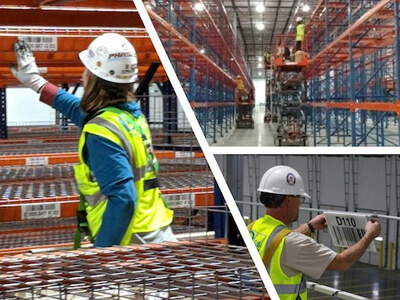 "DIY warehouse label installations typically take 50% longer to complete than one managed by a professional partner such as ID Label."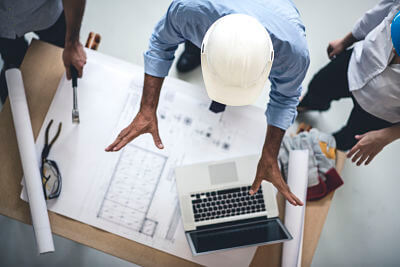 DIY or Professional Installation?
Do-it-yourself installation projects rarely go smoothly. It's no one's fault, necessarily. These are complex undertakings that require professional experience and knowledge.
There can be many factors that go into the DIY vs. pro decision for installation, but cost is typically at the top of the list.
"We show our clients a detailed cost/benefit analysis to fully examine the challenges of installing warehouse labels and signs in-house," said Malcolm Aitken, ID Label's vice president of sales. "It's important to look at the total costs and potential risks to make the best decision for your organization."
To assist in your decision, consider the following five questions:
1. What are the risks to your operations if you miss your target completion date due to project overruns or unforeseen DIY issues?
Advanced planning and preparation are key when it comes to warehouse label and sign installations. Missing your go-live date because your locations aren't properly marked is a costly misstep.
"DIY warehouse label installations typically take 50% longer to complete than one managed by a professional partner such as ID Label," Aitken said. "That's due to inexperience and errors. This is a significant time-lag given that ID Label can typically install up to 50,000 labels and 2,000 custom warehouse signs in a five-day period."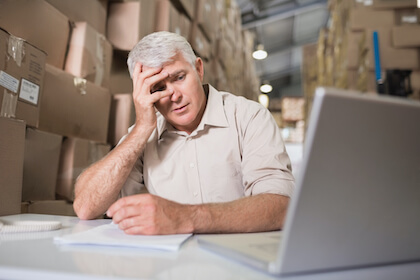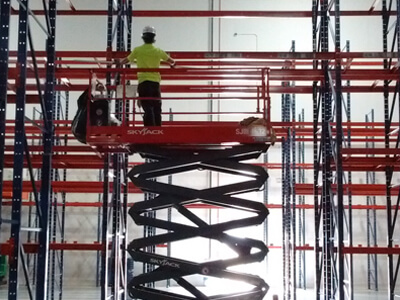 2. Are you planning to use your warehouse staff and/or temp contractors?
If the plan is to use your own warehouse workers, what's the potential impact to operations? Do they have the skills, knowledge and equipment to get the job done correctly and on time?
Or if you're hiring temp workers, will you find any with the necessary experience and knowledge? We've had customers bring us in to complete an installation because the temp workers didn't show up on day two or three.
Another consideration: Are workers OSHA-certified to operate scissor lifts?
"Installing thousands of rack and bin labels, aisle signs, overhead bulk storage signs, dock door signs and hanging zone markers requires its own level of expertise, knowledge and specialized equipment," Aitken said. "You shouldn't assume your in-house crew of warehouse specialists can tackle this challenge in their "spare time."
3. Have you considered the costs of installation materials and equipment?
ID Label is able to purchase premium materials (like aircraft-grade cabling) at wholesale costs. This is critical when installing overhead signs, for instance, to maintain proper tension across long distances.
Some clients have found that purchasing installation materials and rental equipment alone have exceeded the entire cost of an ID Label-managed installation.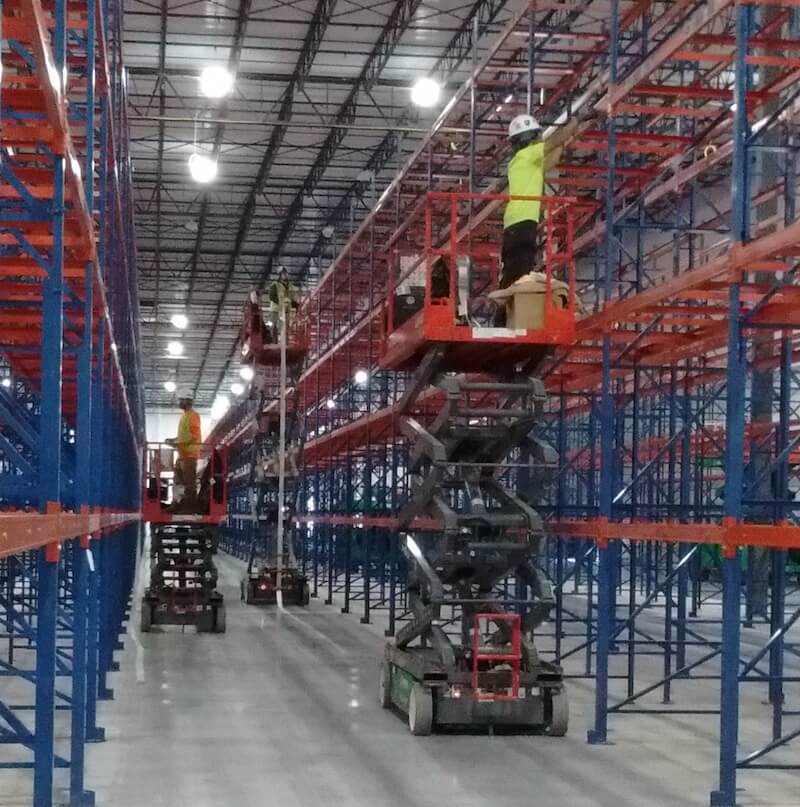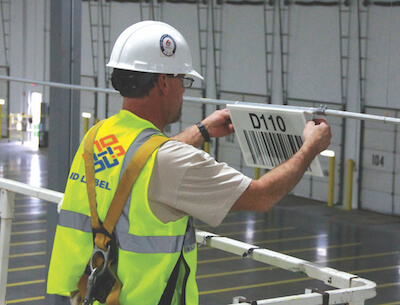 4. How are you ensuring that your warehouse labels and signs will be installed correctly?
Have your workers ever tackled a project like this before? It may look easy but installation projects require a great deal of planning and knowledge.
Installing even a single label out of sequence can have enormous consequences. It not only requires expensive label re-runs, but also the additional time and labor to remove the out-of-sequence labels and install the new ones.
This was the case for one ID Label customer who incorrectly installed warehouse labels in several areas of their facility. The result was significant unanticipated project costs. The DIY installation took five weeks to complete—four times greater than ID Label's proposal.
"Their cost to rent scissor lifts for that extended time perios was more than the total cost of ID Label's professional installation quote," Aitken said.
The 3PL operator had upcoming installations at three additional locations and did not hesitate to use ID Label for those projects.
5. How are you preparing warehouse racks and beams prior to installing labels?
There are various factors that can lead to peeling or falling labels from DIY installation projects:
Dirty or dusty racks and beams – Dirt and dust can quickly accumulate on warehouse racking and beams during installation, which can significantly diminish a label's adhesive values.
Moisture – Humid conditions create condensation on warehouse beams. Labels applied in this environment can easily curl, crinkle, peel or fall off the beams.
Application over old labels – Simply applying new labels over old ones results in inaccurate scans and labels that curl and peel.
Often, inexperienced DIY workers don't know how to avoid label installation challenges such as these. Properly and accurately installing warehouse rack labels requires specialized equipment and careful preparation to avoid any issues or errors.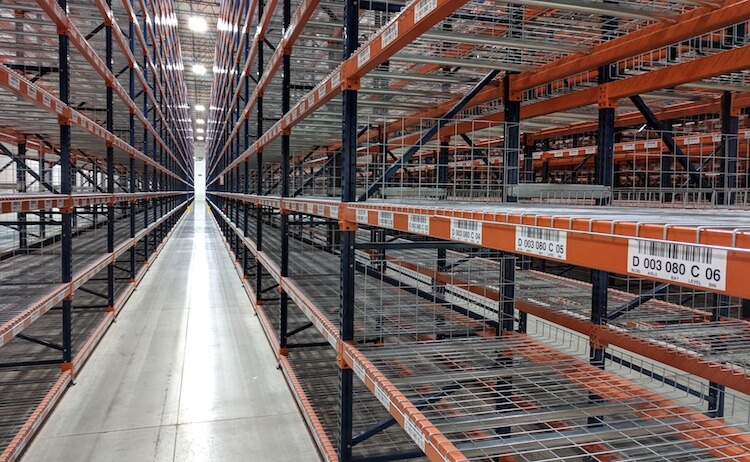 Avoid the Pitfalls of DIY Installations
When labor, production, lack of experience, errors and the other complexities are factored into label and sign projects, warehouse operators often end up spending 35-50 percent more for DIY in-house installations.
"There's no overstating how critical advanced planning and preparation are to assure successful project completion," Aitken said. "At ID Label, we provide complete project management for turnkey installation services to give you one less headache to worry about on these large, complex projects."

The ID Label Advantage
ID Label manufactures extremely durable warehouse rack and bin location labels. Our materials have been tested and used in warehouse operations around the globe.
We also provide warehouse signage and turnkey nationwide installation services to provide a complete solution to our many clients who rely on us for all their warehousing needs.