Using Asset Tags to Improve Equipment Tracking and Management
Does your organization actively track and monitor its fixed and movable assets?
Are items like notebook and desktop computers, printers, furniture, tools and industrial machinery all properly labeled with durable barcode asset tags or labels?
Do you use software to track and manage these assets?
Are you confident your organization is not at risk for missing or stolen assets?
If you answered no to any of these questions, don't worry – you're not alone.
"Not many organizations can confidently claim they've got their arms around 100 percent of their physical assets, where they're located and who has access to each item," said John McDonough, an ID Label business development manager. "But it's relatively easy to make significant headway to improve management of your key assets. And the benefits are clear and compelling."

"Quality, durable labels, paired with barcode scanners and inventory management software, are the ideal solution for a robust asset management program."
– John McDonough, ID Label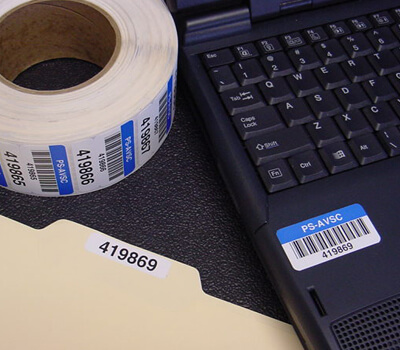 Why You Should Tag and Track Computers, Equipment and Other Assets
The use of asset labels and tags with barcodes offers a broad range of benefits to organizations, including:
Monitoring employee equipment usage and access
Improving equipment lifecycle planning
Reducing human error and manual documentation
Minimizing losses from misplaced or stolen assets
Efficiently conducting audits of equipment, tools and machinery
Planning regular equipment maintenance and calibration procedures to adhere to warranty contracts or maintain compliance for industry certifications
Providing senior managers with relevant and timely information so they can make informed capital investment decisions
Types of Asset Tags
"The foundation of any successful asset management program begins with barcode tags or labels," McDonough said. "Quality, durable labels, paired with barcode scanners and inventory management software, are the ideal solution for a robust program."
There are a number of options to consider for asset tags, depending on the application and the environment in which they'll be used. Manufacturing tools and equipment, for instance, will likely be exposed to much different conditions than, say, a notebook computer or conference room projector.
Polyester Labels with Protective Laminate
"For general tracking of common assets like office furniture and equipment, a polyester or vinyl label with a matte protective laminate coating is an effective and economical solution," McDonough said. "We typically manufacture them in custom colors, featuring a company name, logo and barcode image. They can be supplied in convenient rolls or sheets."
Typical applications include:
Notebook and desktop computers, printers, monitors
Conference room projectors and speakerphones
Tamper-evident labels for sensitive equipment
UV-protected labels for outdoor use
Laboratory, pharmaceutical and healthcare labels
Equipment calibration stickers
For equipment calibration applications, for instance, premium polyester labels are an ideal solution. They can include a self-laminating flap to seal and protect handwritten dates and signatures that note performance of maintenance and calibration procedures, while offering protection from cleaning solutions.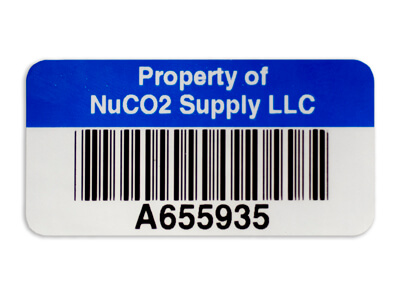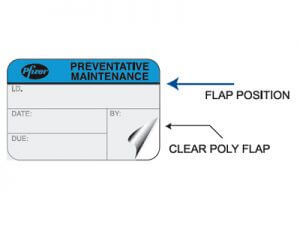 Tracking Reusable Warehouse Assets
Durable asset tags with barcodes help warehouse and DC operators track and manage reusable assets like plastic pallets, totes and containers. This minimizes added costs from lost and unreturned items.
Without the ability to properly track warehouse assets, companies can incur significant additional costs. Not only will lost and unreturned pallets and totes need to be replaced, workers may also waste hours conducting searches and creating workarounds.
ID Label's durable BullsEye™ labels are an excellent choice for tracking these assets. The labels feature aggressive, all-temperature adhesives and UV-resistant inks. They are designed to perform accurately and consistently amidst frequent slotting, picking, shipment and returns of your reusable pallet assets.
Durable Metal Tags
"For applications that require extreme durability, we recommend going with a rigid anodized aluminum or flexible foil tag," McDonough said. "For instance, they can withstand harsh environments encountered during a typical manufacturing process, where they might be exposed to extreme temperatures or chemicals."
Typical applications include:
Manufacturing equipment and components
Industrial equipment, parts and tools
Shipping containers
Military UID labeling for certified conformance
Notebook computers and office equipment
Extreme temperature applications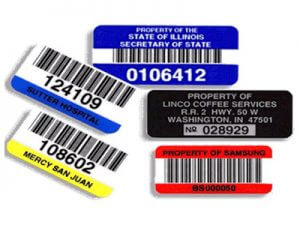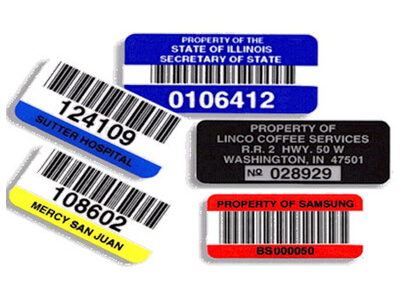 Performance in Extreme Temperatures
ID Label's durable asset tags and labels can withstand temperatures from -65° to +300° F. All labels have an aggressive adhesive for excellent adhesion to varying profiles such as engineered polymers, aluminum, wood, plastic and steel surfaces.
Outdoor Xtreme™ asset labels and tags are durable, all-weather products engineered for years of long-lasting performance. They're able to withstand everything from intense heat and ultraviolet sun rays to rain, hail and subzero temperatures. They also have excellent resistance to harsh chemicals and abrasions.

The ID Label Advantage
ID Label manufactures extremely durable warehouse rack and bin location labels. Our materials have been tested and used in warehouse operations around the globe.
We also provide warehouse signage and turnkey nationwide installation services to provide a complete solution to our many clients who rely on us for all their warehousing needs.