4 Key Factors When Relabeling Your Warehouse to Implement a New Warehouse Management System
The benefits of implementing a new warehouse management system (WMS) are numerous. Improved inventory visibility, traceable materials, space optimization, improved productivity/throughput and lower operating expenses are a few key outcomes.
"Implementing a new WMS often requires a revamp to the warehouse numbering scheme," said John Roggoveen, an ID Label senior business development manager. "That typically means relabeling rack and floor locations and augmenting signage throughout the warehouse."
Having the right, updated barcode labels and signage serves as a critical lynchpin between the WMS and warehouse operations.
Automation Growth
According to a recent market report, the warehouse automation market is expected to grow from a valuation of $14.7 billion in 2020 to more than $38 billion in 2027 to accommodate the rapidly growing need for this technology.
For manufacturers and 3PL warehouse operators considering their own automation needs, it's important to consider the changing demands of facilities and how custom-engineered labeling solutions can help ensure a successful WMS implementation.
Read on to learn about four key success factors to consider when relabeling for a new warehouse management system.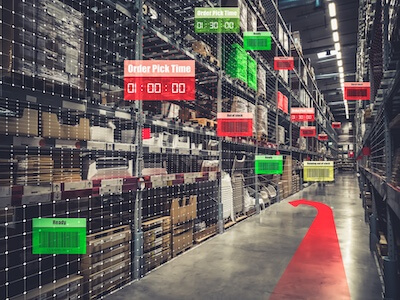 WMS case study: See how this manufacturer paired a new WMS with overhead signs to greatly improve inventory management.

"Using WMS automation with a barcode labeling and scanning system ensures visibility at the location and reduces instances where inventory becomes forgotten, lost, or misplaced within the warehouse."
– John Roggoveen, ID Label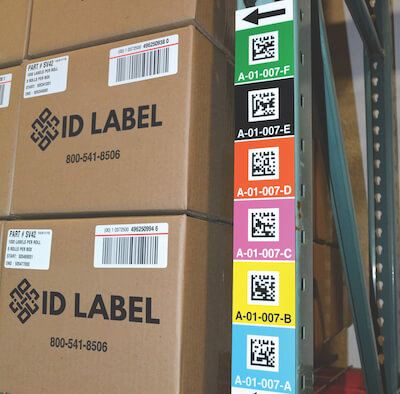 Factor 1: Accuracy
Relabeling projects are becoming more common as facilities seek ways to better manage inventory amid growing demand. Labels and signs need to be accurate to accommodate extensive inventories and meet more exacting target warehouse KPIs.
"When implementing a new WMS, it's important to ensure that barcode symbology, label materials and graphics all work seamlessly with your new WMS for completely accurate scanning," Roggoveen said.
Factor 2: Durability
Each label needs to withstand everyday "bumps and bruises" specific to your operation to minimize picking/placing errors and maximize scanning performance. This requires careful consideration of high-quality labeling solutions engineered for your environment and application, from labels with ultra-durable protective top coatings to cold storage labels used in a variety of freezer applications.
Your ID Label representative will work closely with you to understand your requirements and design a solution tailored to your environment and WMS.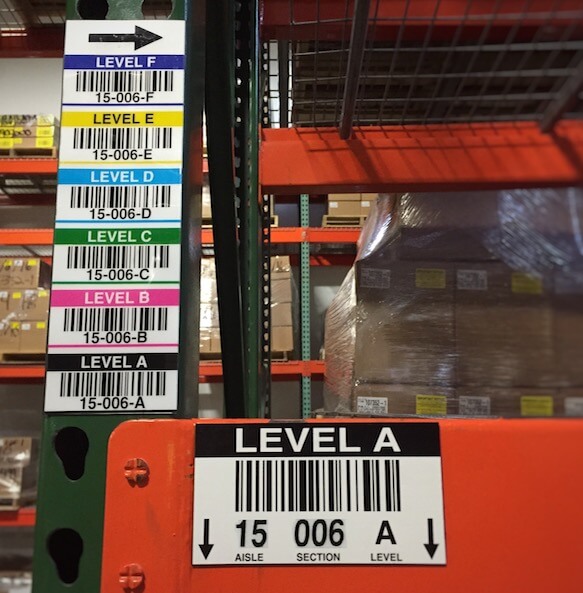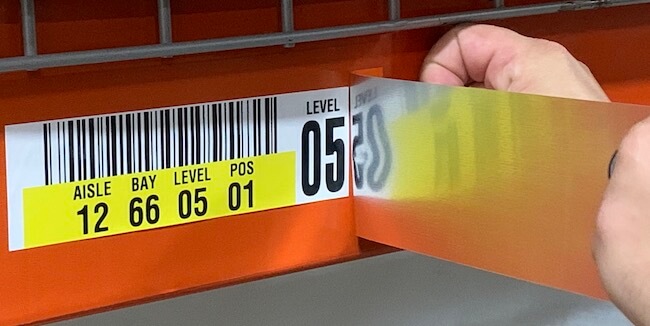 Factor 3: Efficiency
More than any other factor, the right labels need to improve the overall efficiency of the operation and the warehouse management system.
ID Label has worked with thousands of organizations to deliver custom barcode label solutions that can increase warehouse efficiency for today's smart warehouse.
"Relabeling projects can be time consuming and burdensome on your workers," Roggoveen said. "A solution like ID Label's Beam Renew™ is ideal because it applies directly over old or damaged warehouse labels, so relabeling rack locations is quick and easy. There's no need for warehouse workers to spend hours scraping old labels or chemically treating beams prior to relabeling."
Other solutions like proper floor striping and overhead barcode signage can ensure the most efficient use of bulk storage space.
Factor 4: Flexibility
"Using WMS automation with a barcode labeling and scanning system ensures visibility at the location and reduces instances where inventory becomes forgotten, lost, or misplaced within the warehouse," Roggoveen said.
He advises seeking labeling solutions that offer ease of installation and flexibility for future changes.
"For instance, Clean Release™ labels feature an innovative adhesive that allows them to be removed and repositioned while remaining fully in place for years at a time," he said. "So if you reconfigure your racking or adjust your slotting strategy down the road, you've got the flexibility to do so."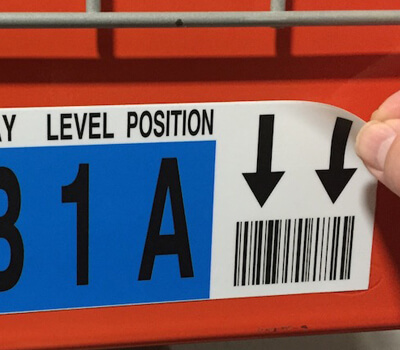 Custom Labeling Solutions for Your WMS
ID Label helps its clients find the ideal solutions that deliver accuracy, durability, efficiency, and flexibility. We deliver custom-engineered solutions built on the latest digital technology, materials, adhesives and inks. Partnering with ID Label can help you find the best solutions to keep your business moving forward while saving you time and money.

The ID Label Advantage
ID Label manufactures extremely durable warehouse rack, shelf and bin location labels. Our materials have been tested and used in warehouse operations around the globe.
We also provide warehouse signage and turnkey nationwide installation services to provide a complete solution to our many clients who rely on us for all their warehousing needs.