No Scraping. No Label Stacking. No Mess. No Kidding!
Tote Renew™ Easy-Release Label Holder

ID Label's innovative Tote Renew™ features a specialized laminated coating that makes it easy to apply and remove your tote labels without any scraping or adhesive residue. Easily track and manage your reusable totes!
Laminated label-holding strip makes label removal clean, fast and simple
No need to scrape, clean or stack old barcode labels
Eliminates costly need for plastic sleeves or placards to house labels
Durable construction ideal for reusable totes, containers and bins
Supports interchangeable usage of totes among your network of distribution centers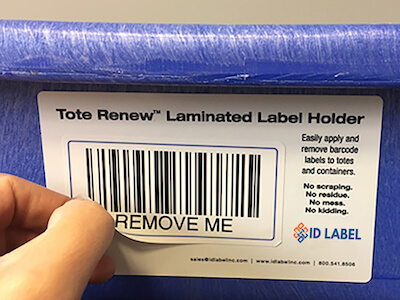 Easily apply and remove barcode labels for all your reusable warehouse totes, bins and containers. No need for costly placards.
Request Information and Samples
When We Do the Barcodes, You Can Do More!
Since 1994, ID Label has been the nation's leading manufacturer of high-quality, extremely durable warehouse labels and signs for thousands of leading organizations, including: