Video Overview: Beam Renew™ Warehouse Label Cover-Up
No Scraping. No Cleaning. No Hassle. No Kidding!
Easily relabel your warehouse racks with Beam Renew, ID Label's popular warehouse rack cover-up solution. Its durable construction and advanced adhesives allow for seamless application over damaged, torn and old barcode labels without the time and expense of cleaning, scraping or painting.
Beam Renew also features an easy-release top coating that makes it a breeze to apply, remove and relabel beams to accommodate shifts in product inventory, pick-location changes and seasonality.
See for yourself in our new video product overview.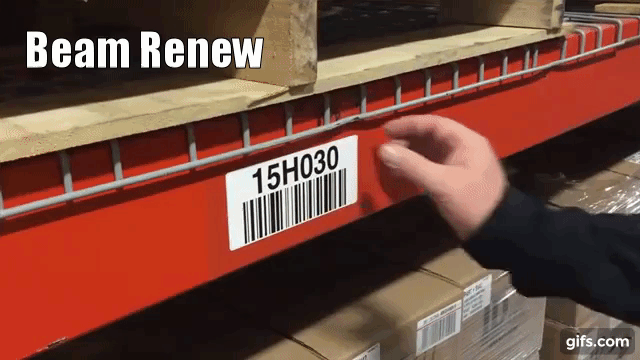 Easily Relabel Warehouse Racks
Simply apply your barcode location labels to the Beam Renew base and easily remove them when your product inventory and information changes, or when re-slotting or reconfiguring locations.
There's no need to scrape away previously used labels or struggle with harsh cleaning solutions to tediously remove partial labels or adhesive residue.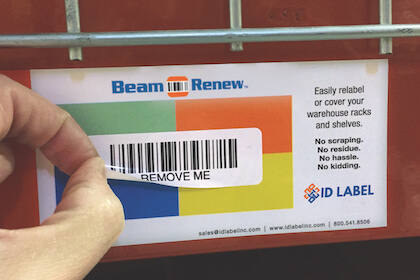 Beam Renew: Key Product Features
Durable Construction – Features an opaque, metallic backing to avoid show-through and scan errors
No Scraping – Boost worker productivity; avoid scraping old labels and chemical treatments prior to relabeling
Refresh Beams – Keep beams looking clean and new
Multicolor Options – Available in multiple colors to match or contrast your beams

The ID Label Advantage
ID Label manufactures extremely durable warehouse rack and bin location labels. Our materials have been tested and used in warehouse operations around the globe.
We also provide warehouse signage and turnkey nationwide installation services to provide a complete solution to our many clients who rely on us for all their warehousing needs.