Tamper-Evident Labels for Healthcare
What are Tamper-Evident Labels?
Tamper-evident labels are designed for security purposes to protect equipment against tampering and theft. Another common application is for tamper-evident labels to include calibration information. In addition to ensuring that the labels are not being tampered with, calibration labels provide visual evidence to confirm that equipment is being properly maintained.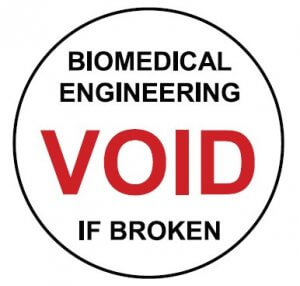 Healthcare equipment may be subject to harsh cleaning chemicals, so it's imperative to use a durable label that can withstand regular exposure to these conditions.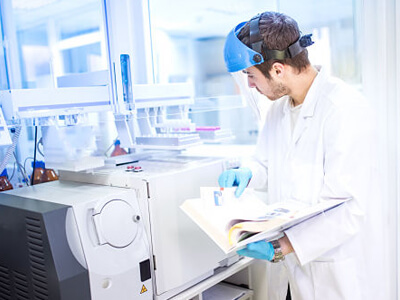 When to use Tamper-Evident Labels?
The following may be reasons for investing in tamper-evident labels:
Meeting legal requirements in certain industries
Staying-up-to-date on equipment warranty or insurance information
Reducing risk of lost or stolen equipment
It's important to work with an experienced label manufacturer that uses high-quality materials and adhesives, and understands the unique applications of tamper-evident labels in your industry.
Types of Tamper-Evident Labels  
Barcode Labels with Sequential Numbering – Tamper-evident barcode labels are usually a polyester label or tag that is attached to equipment with a strong adhesive. Using scanners to read barcodes, companies can track their assets to ensure that they are intact and in place. A barcode label on a piece of equipment can help protect against theft, misplacement or label tampering.
Destructible Label – A destructible label is attached to equipment with a strong adhesive. Once applied to a surface, destructible labels cannot be removed in one piece. Small pieces of labels left behind show that an attempt has been made to remove a label.
Void Seal Labels – A void label can be designed to prevent tampering and to protect against unauthorized transfers. These labels are made from a polyester film with an underlying "VOID" pattern. When the label is removed, the "VOID" pattern underneath remains.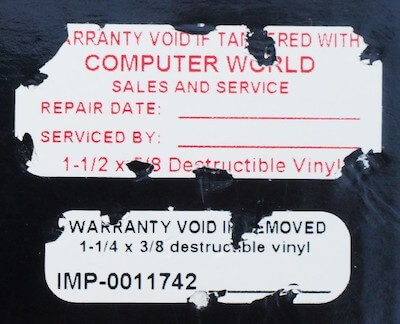 Tamper-Evident Labels for Healthcare
According to a report, the global healthcare asset management market is expected to reach $29.6 million by 2020. The growth in this market is due to more stringent regulations being put into place, concerns about patient safety, and overall control over equipment.
Whether it's a laboratory or engineer setting, all medical devices and equipment used must be labeled and calibrated correctly to assist biomedical, clinical engineering or medical staff throughout their day-to-day tasks. Healthcare equipment may be subject to cleaning chemicals on medical labels or other environmental hazards, so it's imperative to select a tamper-evident or calibration label that can withstand regular exposure to these conditions.
When designing tamper-evident labels or calibration labels for medical devices, ID Label can create customizable labels to meet your specific operational needs.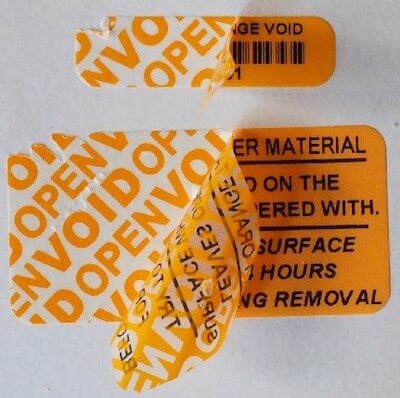 Industry Standards for Tamper-Evident Labels
Regulations play an integral role in labeling decisions. For example, the Federal Drug Administration requires that healthcare providers and equipment operators document when medical devices have been calibrated or inspected.
Medical device labels have content requirements as well. If your organization adheres to any international quality standards or accreditations (such as ISO, ANSI/ASQC or JCAHO), properly formatted device calibration and inspection labels are a requirement. Several important items to include on a medical product label are the name of the organization responsible for the equipment's maintenance, equipment identification to ensure certification to a specific piece of equipment, equipment calibration or inspection date and the individual who performed the calibration or inspection.
In today's high-tech healthcare environment, some medical devices may need to be calibrated at least once per month. If this pertains to your organization, ID Label can produce custom labels designed to help you properly document all of your equipment inspections and maintenance.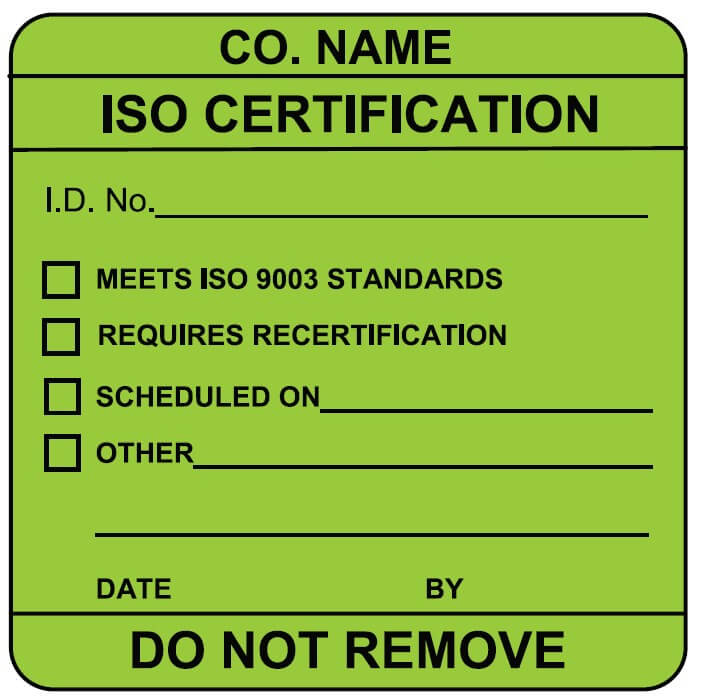 The ID Label Advantage
As a premier national label manufacturer, ID Label produces millions of labels annually for major hospitals and healthcare networks, leading biomedical and clinical engineering organizations, world-renown educational institutions and leading pharmaceutical companies.
ID Label's turnkey labeling solutions include:
Custom label design and consultation at no extra charge
20-step quality assurance production process
Digital proofs for preproduction approval
Sequential number tracking and database management, if applicable
Interested in learning more? Contact us today to request free samples and a product catalog.