Selecting the Right Equipment Calibration Labels for Biomedical, Clinical and Hospital Environments
It's an understatement to say we live in an age where technology dominates and enriches our daily lives. Perhaps nowhere is this truer than in the healthcare industry.
Whether in a hospital, doctor's office, university or biomedical/clinical engineering setting, medical devices and specialty equipment are vital to developing successful procedures and treatments.
It's not just important that healthcare equipment records be properly maintained; it's a legal requirement in certain settings.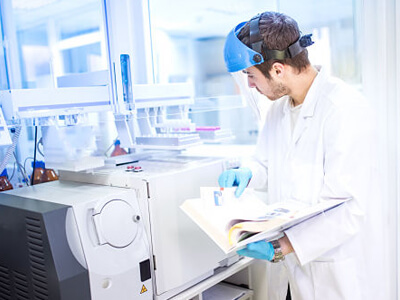 "It's important to work with an experienced label manufacturer that uses high-quality materials and adhesives, and label designs that have been proven in hospital, biomedical and clinical settings."
– John McDonough, ID Label
Medical Device Labels: What's Required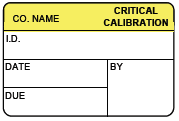 If your organization adheres to any international quality standards or accreditations (such as ISO, ANSI/ASQC or JCAHO), properly formatted device calibration and inspection labels are a requirement. There are also certain FDA requirements for healthcare professionals
"To help protect consumers, the Federal Drug Administration requires that healthcare providers and equipment operators document when medical devices have been calibrated or inspected," noted ID Label's John McDonough, a business development manager. "This documentation is usually in the form of a label or tag on a piece of equipment. It needs to be visible to operators and those responsible for calibrating or inspecting the device."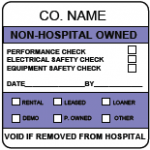 For each piece of medical equipment, providers are required to document:
The name of the organization responsible for the equipment's maintenance
Equipment identification (such as a serial number) to ensure certification to a specific piece of equipment
Equipment calibration or inspection date, as well as the date of the next scheduled event
The individual who performed the calibration or inspection (typically with an area for an I.D. stamp)
What Type of Equipment Labels Do You Need?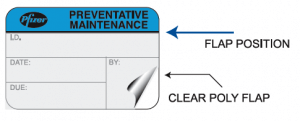 There are a number of important factors healthcare providers should consider when selecting their device inspection, maintenance and calibration labels.
"To maintain a clean and healthy environment, these labels are likely to be exposed to harsh cleaning solutions and chemicals," McDonough said. "So it's important to work with an experienced label manufacturer that uses high-quality materials and adhesives, and label designs that have been proven in hospital, biomedical and clinical settings."
McDonough cited ID Label's popular self-laminating design as an example.
"The user records the required information on a small writeable polyester label, then covers it with a clear, durable lamination that's attached to the label," he said. "It's air tight and highly resistant to chemicals and moisture, and is approved for use in clean rooms and other clinical settings. Our clients love it."
Healthcare Label Options and Applications
Labels and tags can be produced in a wide variety of colors and formats to satisfy a broad range of applications for hospitals, biomedical labs and clinical engineering, including:
Equipment inspection labels
Equipment calibration labels
Preventative maintenance labels
Tamper-evident/destructible labels
Void seal labels
Safety labels
Labels with clear laminated covers
Barcode labels with sequential numbering
Asset tags and I.D. labels
Labels with logos, graphics and multiple colors
As noted earlier, in today's high-tech healthcare environment, organizations typically follow some set of standard practices for quality assurance or industry accreditation.
"Properly documenting your equipment inspections and maintenance via an internationally acceptable label and tag system is critical for adherence to virtually all the relevant worldwide quality standards," McDonough said.
Notable Quality Standards
JCAHO
ISO 9000
ISO/IEC Guide 25
21CFR211, 21CFR820
QS 9000
ISO 14000
ANSI/ASQC Q9001, ANSI/NCSL Z540-1
OSHA 1910
The ID Label Advantage

As a premier national label manufacturer, ID Label produces millions of labels annually for major hospitals and healthcare networks, leading biomedical and clinical engineering organizations, world-renown educational institutions and leading pharmaceutical companies.
ID Label's turnkey calibration labeling solutions include:
Custom label design and consultation at no extra charge
20-step quality assurance production process
Digital proofs for preproduction approval
Sequential number tracking and database management, if applicable
Interested in learning more? Contact us today to request free samples and a product catalog.