How Wrap-Around Warehouse Pallet Labels Improve Inventory Tracking
Barcoded pallet labels — also known as license plate numbers or LPNs — are vital to the accurate tracking of inventory in a warehouse. Married with the proper software, each label contains pertinent information about the content of a pallet or case, including where in the warehouse it is stored.
"Thanks to the LPN, accurate information is stored and managed via inventory management software," said Meegan Johnston, an ID Label business development manager. "This efficient process also eliminates the need to hand-write information, which can lead to costly mistakes."

"Wrap-around LPN/pallet labels are highly visible and easy to scan. They support the needs of today's smart warehouse and the overall drive for efficiency, speed, automation and accuracy."
– Meegan Johnston, ID Label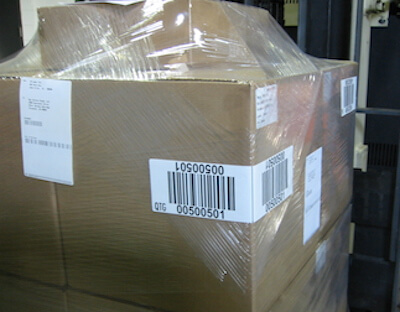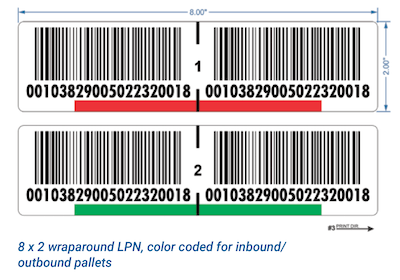 Wrap-Around Pallet Labels
Full pallet loads are often shrink-wrapped to secure individual cases to the pallet. These pallets are then typically stored in a rack bay location (also identified via a barcode label) until ready to ship.
A "wrap-around" LPN — a dual barcode label that wraps around a corner — is a popular solution for tracking these pallet loads throughout a DC.
"We have a lot of warehouse operators that rely on our wrap-around label," Johnston said. "It's a great solution for efficient and accurate inventory tracking."
She highlighted three primary benefits.
Highly Visible – Wrap-around labels are visible from two directions, making it easy for workers to quickly locate them. Two labels per pallet ensures that each side contains a scannable label.
Accurate Scans – The labels are large and easy to spot, making them easy to scan. Large human-readable numbers or letters typically accompany each label for improved verification and accuracy.
Improved Inventory Tracking and Management – Wrap-around barcode labels support the needs of today's smart warehouse and the overall drive for efficiency, speed, automation and accuracy.
Custom Manufacturing, Designs and Colors
"As a custom manufacturer, ID Label specializes in preprinted, sequential barcodes," Johnston said. "All customer LPN numbers are stored in our proprietary database for easy and error-free reordering. We also offer a Make-and-Hold program that offers volume pricing, with new pallet labels delivered automatically each quarter."
This means warehouse and distribution center managers can focus on facility operations, and not worry about all the hassles of in-house label printing.
Do I have enough supplies and ribbons on hand or will we run out during a critical time?
How come my hardware and maintenance costs are so high?
What happens when we encounter computer or printer problems?
What if my workers accidentally print duplicate numbers again?
Custom colors, sizes and designs are also easy to accommodate with preprinted LPN labels.
"With our advanced digital inkjet technology, we can produce a wide variety of labels," Johnston said. "Many companies have moved away from simple black-and-white labels to brighter colors with custom logos or images for easier identification."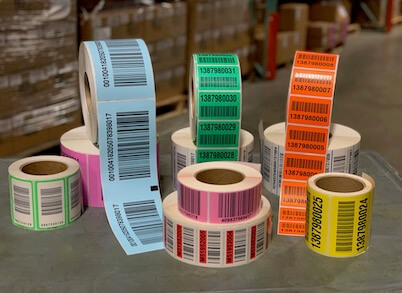 The ID Label Advantage
ID Label manufactures extremely durable warehouse rack and bin location labels. Our materials have been tested and used in warehouse operations around the globe.
We also provide warehouse signage and turnkey nationwide installation services to provide a complete solution to our many clients who rely on us for all their warehousing needs.