Buyer's Guide to Warehouse Signs
Download Our Free White Paper to Learn More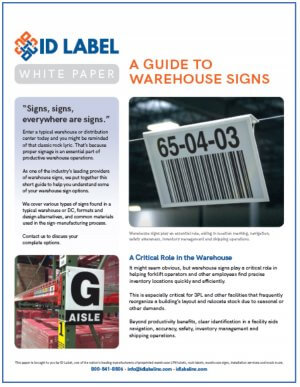 Types of Signs, Materials, Designs and More
Discover five key types of signs every warehouse and DC should employ.
Learn about sign designs and formats, such as angled, teepee and "Z" shapes — and the advantages of each.
Review sign materials to gauge which are appropriate for your environment.
When We Do the Barcodes, You Can Do More!
Since 1994, ID Label has been the nation's leading manufacturer of high-quality, extremely durable warehouse labels and signs for thousands of leading organizations, including: