5 Key Elements of a Quality Warehouse Barcode Label
When selecting the most effective custom warehouse barcode labels for your facility, be sure to understand the key factors in your vendor's manufacturing process that affect label quality and durability.
"Warehouse label performance — from scan accuracy to longevity and durability — is directly related to the quality of the manufacturing process," said Scott Bender, ID Label's vice president of sales. "You want to ensure that the materials, adhesives and the physical construction of the label are suited to your specific operating conditions and warehouse application."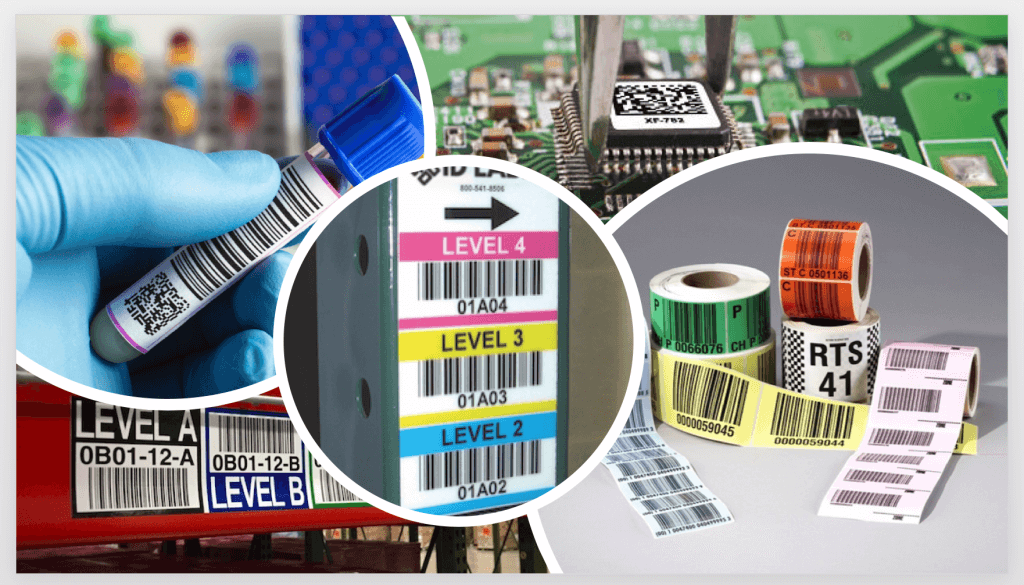 "Understanding the environment in which the label will be used and the surface the label needs to adhere to are vital to selecting the most effective solution."
– Scott Bender, ID Label
Key Warehouse Label Elements
A typical barcode label is made up of five key components.
Release liner – This is the base carrier to which a label is adhered prior to its use. "Paper is the most common release liner," Bender said. "It's usually coated with silicone so labels easily release from their rolls or sheets."
Adhesive – This is the glue that binds the finished label to a surface. Adhesives can be permanent, temporary, removable or repositionable, and formulated for all-temperature or freezer environments. "Understanding the environment in which the label will be used and the surface the label needs to adhere to are vital to selecting the most effective solution," Bender said.
Base stock – This is the material on which the barcode and other label images and text are printed. "There are several different base stocks for label applications, including polyester, polypropylene, paper, film, vinyl and metal – each of which can vary widely in their ability to withstand environmental conditions," Bender said.
Print image – Imagery can be applied via different print technologies, such as thermal transfer (heat), laser, ion deposition (toner), aqueous and inkjet. "These methods each have advantages and disadvantages relative to print quality, durability and cost," Bender said.
Coating – Barcode labels that are required to last and withstand daily use typically feature a protective top coating, such as a film laminate or varnish. This layer is applied on top of the print image, before labels are die cut. "Lamination or varnish coatings help protect against environmental factors like physical bumps and scrapes, extreme temperatures, sunlight and harsh cleaning solutions," Bender said.
Advantages of Digital Label Printing
ID Label manufactures the vast majority of its products via state-of-the-art digital inkjet printing technology, which is ideally suited for many barcode label applications. Digital printing capabilities support:
Multicolor, photo-quality labels
Sequential barcode numbering
Lamination for durability
In-line die-cutting
A variety of label shapes and sizes
Cost-effective production of short or longer runs
"Digital label printing technology is quite advanced today," Bender said. "ID Label's sophisticated digital inkjet presses allow us to produce the highest-quality warehouse barcode labels in the industry. In a single pass, we can produce finished labels that feature four-color process images with ink instantly cured by LED lighting, sequentially numbered barcodes, extremely durable lamination and die-cutting to precise customer requirements."
Download: "What Goes Into Making a Barcode Label Durable and Lasting?"
To learn more about what goes into making durable warehouse labels that perform to your operational standards and conditions, download our free white paper.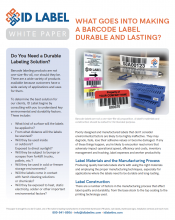 The ID Label Advantage
ID Label manufactures extremely durable 

warehouse rack and bin location labels. Our materials have been tested and used in warehouse operations around the globe.
We also provide warehouse signage and turnkey nationwide installation services to provide a complete solution to our many clients who rely on us for all their warehousing needs.